#Microblog Mondays 100: Milestones and Commitments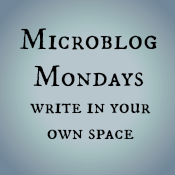 Not sure what #MicroblogMondays is? Read the inaugural post which explains the idea and how you can participate too.
*******
If you read my blog years ago, you might remember that the twins had outlined several ways a person could die back when they were first learning about death. Those ways were not eating, not holding your mother's hand while crossing the street and getting hit by a car, and turning 100.
Um… Microblog Mondays just turned 100, y'all.
But no worries, it's not dropping over dead. To ensure that, I already jotted down an idea for the 101st Microblog Monday. So, yeah, that's happening next week. But 100 feels like such a big number. How did it get so important? I mean, why did we all declare that 100 would be a milestone, but 97 would not?
The point of Microblog Monday will also remain the same: To stop giving over your best thoughts to other social media outlets and instead record them on your blog, where you'll be able to re-read them in years to come.
So go do that. The best way to ensure that Microblog Monday is around 100 posts from now is to participate. Make the commitment to write one small thing on your blog every Monday for the next 100 weeks.
Are you in?
*******
Are you also doing #MicroblogMondays? Add your link below. The list will be open until Tuesday morning. Link to the post itself, not your blog URL. (Don't know what that means? Please read the three rules on this post to understand the difference between a permalink to a post and a blog's main URL.) Only personal blogs can be added to the list. I will remove any posts that are connected to businesses or are sponsored posts.