An Unexpected Call
I know I said I wasn't going to write anymore about Truman… but then I got good news.
I'm working when the phone rings.  It's our vet, calling to check on Truman.  I let her know that he was still the same.  Still eagerly eating, still the same personality, and still paralyzed with crusty eyes.
She told me that she had been discussing Truman's illness with a radiologist who also sometimes worked with the guinea pig specialist she sent me to see last week.  She told him that both vets believed it was either a clot or spinal cancer.  He didn't think so.  And he was willing to do an ultrasound on Truman for free to find out.
My vet promised that Truman would be awake for the ultrasound and it wouldn't hurt at all.  I told her my fear was that they would definitively find something, and I would be encouraged to put him to sleep.  She promised me that she would never suggest that while he was still relatively happy.  All this would do would give us answers so if I had to make a choice in the future, I would do so knowing what we were dealing with.
Truman and I drove over to the vet, my stomach in knots.
A nurse took Truman back while I stayed in the waiting room, and came out to retrieve me when it was over.  She was sort of smiling, but I don't know her well, so I didn't know how to read that.  But when I walked into the examination room and the vet was beaming, I knew it was good news.
No clot.  No spinal tumour.  Nothing amiss found internally.
I know it sounds weird to be excited that we now have a completely unexplained illness, but taking the worst things off the table is a bit of good news.  She warned that it could still be lymphoma in his brain, but it could also be something else.  And while she doesn't think that he will ever walk again, and she tempered my excitement by saying that every extra day is a blessing and she can't predict how this will go, I drove home with a huge grin on my face and gave him so extra lettuce to celebrate.
Our vet shows such deep care for Truman.  But moreover, I cannot thank that radiologist enough for making that offer and giving us peace of heart.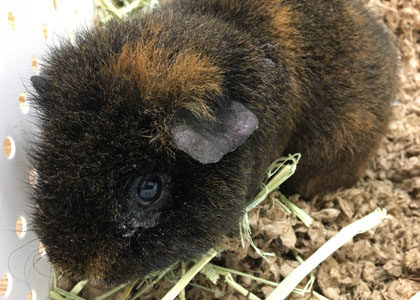 Yes, I snapped a picture of Truman in the waiting room at the office.  So what?  (Okay, I may have snapped about 12 photos.)