My Fur Baby
He smells.  Actually, "smells" doesn't really cover it, but I'll spare you the graphic description I was about to pull out of my pocket.  His eye is still oozing white gunk, his head still tilted to the side.  But he is stumbling around his cage like he's drunk, a step up from the numerous days where he has barely had energy to open his mouth for my syringe of water.  He's eating a bit of food along with the meal supplement, and he has managed to gnaw through a few of his beloved cookies.  It feels like we're working our way back to somewhere good.
I've never really been in love with the term "fur baby" but… that is what he is.  He is my baby.  I mean, he is the actual replacement for the human child I was supposed to have, and I treat him as I would a human baby.  The ChickieNob refers to him as my third child, and sometimes mutters that he is my most important child.  But he's just the one who needs me the most; who is wholly dependent upon me for every one of his needs.
People keep joking this week that I clearly need another kid, and I know they don't mean harm from it.  Plus it's hard to back pedal out of that conversation train when the person responds that they did try to add a child to their family but weren't successful.  I get it.  It's uncomfortable, and I'm not trying to make people uncomfortable.  I agree with them — clearly, based on the way I treat my guinea pig like a third child, I should have had another child.
But I don't need to explain to all of you how that cuts into my heart when it's already feeling swollen and raw.
Anyway, thank you for abiding with me.  I've told Truman that there is a lot of love from around the world flowing his way.  He mostly just looks at me blankly and then stumbles around, knocking into everything because he has no sense of balance.  But I like to think that he understands.
Some pictures from last night's tummy time: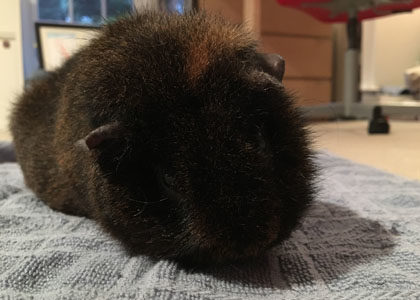 You can still see the head tilt, but at least he's up and about.