#Microblog Mondays 95: Larks and Night Owls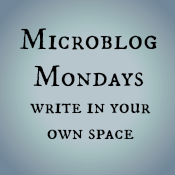 Not sure what #MicroblogMondays is? Read the inaugural post which explains the idea and how you can participate too.
*******
Josh asked me as we were going to bed well after midnight, "Are you a lark or a night owl?" If you had nowhere you had to be during the day or night, no family or friends dependent upon you, would your body rather be awake during the day or night?
I know I am a natural night owl because I once stayed back at college for the first few days of winter break in order to see a friend who was coming into town. It was Christmas, and I had nowhere I had to be until Boxing Day when we were getting together. I was very depressed during that week due to incidents that happened before break, and I decided to just do whatever I needed to do to get through those days until I could see my friend and vent.
So I rented a bunch of movies and bought a bunch of books and purchased clear root beer (remember that stuff?). Then I let myself do whatever I felt like doing, and my schedule shifted away from my normal school life schedule. I would read or watch movies during the day, and then I would start writing around 11 pm. By 4 or 5 am, I would tell myself to go to bed because it seemed like the right thing to do. And then I would sleep until 1 or 2 pm the next day.
I am married to a committed night owl, and our kids are both deep night owls who seem to come alive around 10 or 11 pm and sleep until lunch whenever we let them.
So what is your chronotype? Are you a lark or night owl?
*******
Are you also doing #MicroblogMondays? Add your link below. The list will be open until Tuesday morning. Link to the post itself, not your blog URL. (Don't know what that means? Please read the three rules on this post to understand the difference between a permalink to a post and a blog's main URL.) Only personal blogs can be added to the list. I will remove any posts that are connected to businesses or are sponsored posts.