When You Open Up a Box of Your Book
My box of author copies still hasn't arrived, but my friend, Chris swung by a bookstore and snapped a picture of my new book on the shelf.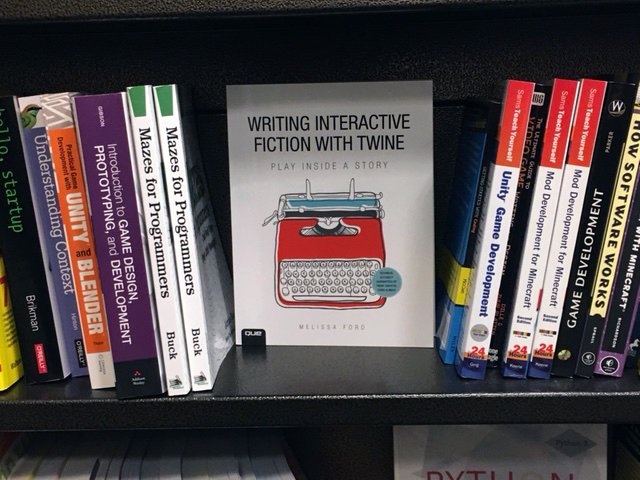 I thought about swinging by a bookstore myself, but it has been continuously raining.  I know that's a bad excuse.  I guess I've been waiting for my copies.  I guess I want to hold it for the first time at home.
*******
Before I wrote my first book, I thought that holding your book would be the most exhilarating experience in the world, like that first kiss with Josh when every hope got funneled into a single, perfect moment.  But it's a lot messier than that.  No matter how many times it happens, it feels the same.
There's relief: You've done it.  The project has been completed and there is tangible proof.  It was a slog, filled with ups and downs, but no one can take away the fact that you have physical evidence of a job well done.  There's sadness: It was such a huge part of your life for months or years, and now it's over.  There's anxiety: Now I need to tell people about this project and ask them to support it.  There's worry: Fuck.  What if it isn't good enough?  There's pride: I accomplished this!  There's embarrassment: What if no one likes it, and I look like an idiot?  There's calm: Being in my hands means that it's completely out of my hands now.
It's all of that, rolled into a single moment.  So not really like the kiss at all.
I hope you like it.  This particular book was a labour of love; a book that almost didn't happen, that means so much to me on so many different levels.  I feel like I've been on a roller coaster for the last year and a half, and I'm finally getting off the ride and looking back at it, thinking how happy I am that I got to be at the amusement park at all.  That I was brave enough to stick with the ride even when it started rocking on its tracks.  That I'm sad the ride is over, and, at the same time, happy to keep exploring what else is at the park.  A year and a half is a long time to be on a ride.
But it was a great ride.
It's at bookstores, but if you don't want to leave the house (as I often don't):
Thank you for being there the last year and a half while I mashed this out.  It is everything I know about fiction writing, between two covers.