#MicroblogMondays 89: Rings and Things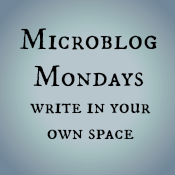 Not sure what #MicroblogMondays is? Read the inaugural post which explains the idea and how you can participate too.
*******
Remember how I couldn't find the jacket for Harry Potter 4? I finally bought a new copy this week so the bookshelf in the kitchen would look orderly. I now have an extra copy of the book (actually, a 4th copy of the book), and beyond donating it, I was trying to think up something creative I could do with it.
There is a British artist who turns old books into jewelry. I don't think I would want to wear Book 4 — but it made me think about which book I would want turned into jewelry. I would love to wear The Phantom Tollbooth, first and foremost. After that, Fellowship of the Ring. After that, The Magician's Nephew.
What would be your top three books to wear, not read?
*******
Are you also doing #MicroblogMondays? Add your link below. The list will be open until Tuesday morning. Link to the post itself, not your blog URL. (Don't know what that means? Please read the three rules on this post to understand the difference between a permalink to a post and a blog's main URL.) Only personal blogs can be added to the list. I will remove any posts that are connected to businesses or are sponsored posts.