#MicroblogMondays 88: The Object of the Game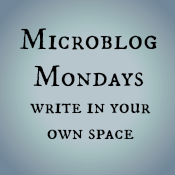 Not sure what #MicroblogMondays is? Read the inaugural post which explains the idea and how you can participate too.
*******
There's a new game for the PS4 which sort of blew my mind. It's called Everything, and every object in the game is playable. Meaning, you can make anything in the game the player character for the game.
Pause for a second and think about that. Because in your life, YOU are the player character, and everything around you is seen in reference to you. A mug is helpful to you because you can fill it with coffee that you will drink. And the shower head is helpful to you because you can turn it on and bathe.
But what about the world from the point of view of the mug? To the mug, you're just a big pair of lips that touch it while it's trying to go about its non-existence. To the shower head, you're just this lump standing underneath it that it's pelting with water.
The idea that everything is playable means that you can experience everything's point of view. And therefore everything is of equal importance. And nothing is the star of the show.
If you could really see the world through anything or anyone's eyes what would you choose?
*******
Are you also doing #MicroblogMondays? Add your link below. The list will be open until Tuesday morning. Link to the post itself, not your blog URL. (Don't know what that means? Please read the three rules on this post to understand the difference between a permalink to a post and a blog's main URL.) Only personal blogs can be added to the list. I will remove any posts that are connected to businesses or are sponsored posts.