#Microblog Mondays 92: Optimistic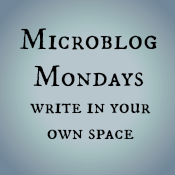 Not sure what #MicroblogMondays is? Read the inaugural post which explains the idea and how you can participate too.
*******
I am not an optimistic person, so I clicked over to Mental Floss to learn the one simple thing I can do to change almost 42 years of the same, pessimistic mindset.
It turned out to be a simple exercise you can do while brushing your teeth (click over to read it). I haven't tried it yet, mostly because I have a terrible feeling that my lists would devolve into super specific things like: It makes me happy when Daredevil does a back flip, when Daredevil does that thing where he kicks off the wall before slamming into someone, when Daredevil parkours up the side of a building.
And then I would think, "Oh, I should stay up and read some Daredevil!" And then be overtired the next day, which probably just makes me even more Eyeore-ish. In all seriousness, there are a lot of things that make me happy, but I'm not sure I could come up with 3 new ones each day.
What do you think of advice like this? Can committing to tricks like this really change the way you process the world?
*******
Are you also doing #MicroblogMondays? Add your link below. The list will be open until Tuesday morning. Link to the post itself, not your blog URL. (Don't know what that means? Please read the three rules on this post to understand the difference between a permalink to a post and a blog's main URL.) Only personal blogs can be added to the list. I will remove any posts that are connected to businesses or are sponsored posts.