#Microblog Mondays 91: Anniversary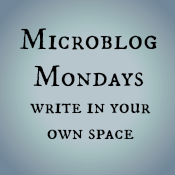 Not sure what #MicroblogMondays is? Read the inaugural post which explains the idea and how you can participate too.
*******
It's the 29th anniversary of my Bat Mitzvah this week. I commented on it aloud at dinner only because the date sticks in my mind. The Wolvog cocked an eyebrow and said, "Do you really still celebrate that still? I mean, now that you're really old?"
Ouch.
But it made me think about the anniversaries I mark and the ones I don't. We used to celebrate our dating anniversary and our engagement anniversary, but now we just mark the wedding anniversary, and do it as low-key as possible, at that. I mark my birthday, but I used to do my half-birthday, too. I used to mark loss dates. The day the twins came home from the NICU. But all those things have faded over the years.
What anniversaries do you still mark? Which ones have you let slip away?
*******
Are you also doing #MicroblogMondays? Add your link below. The list will be open until Tuesday morning. Link to the post itself, not your blog URL. (Don't know what that means? Please read the three rules on this post to understand the difference between a permalink to a post and a blog's main URL.) Only personal blogs can be added to the list. I will remove any posts that are connected to businesses or are sponsored posts.