#Microblog Mondays 90: What Are You Craving?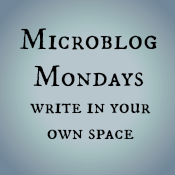 Not sure what #MicroblogMondays is? Read the inaugural post which explains the idea and how you can participate too.
*******
When I'm feeling super anxious, I crave Special K because I associate it with lunch time at home, where I'm comfortable and in my own space. Sometimes when I travel, I bring a container of cereal with me and eat it in the hotel room. Instantly mentally transported.
So I thought this article about food cravings was interesting. It's not just about wanting salty foods or sweet foods. It's subconsciously remembering that you ate those chips with your friends, and wanting to eat them again to remind yourself of what a good time you had that day on the beach.
Isn't that interesting?
So what are you craving right now? And what are your memories associated with that food that you're trying to access by eating it?
*******
Are you also doing #MicroblogMondays? Add your link below. The list will be open until Tuesday morning. Link to the post itself, not your blog URL. (Don't know what that means? Please read the three rules on this post to understand the difference between a permalink to a post and a blog's main URL.) Only personal blogs can be added to the list. I will remove any posts that are connected to businesses or are sponsored posts.