597th Friday Blog Roundup
The case of the totally weird receipt that ended up in my mailbox.
I opened my mailbox to collect the mail.  The receipt below was inside, tucked in with the letters.  53 cents taped onto a receipt from the post office.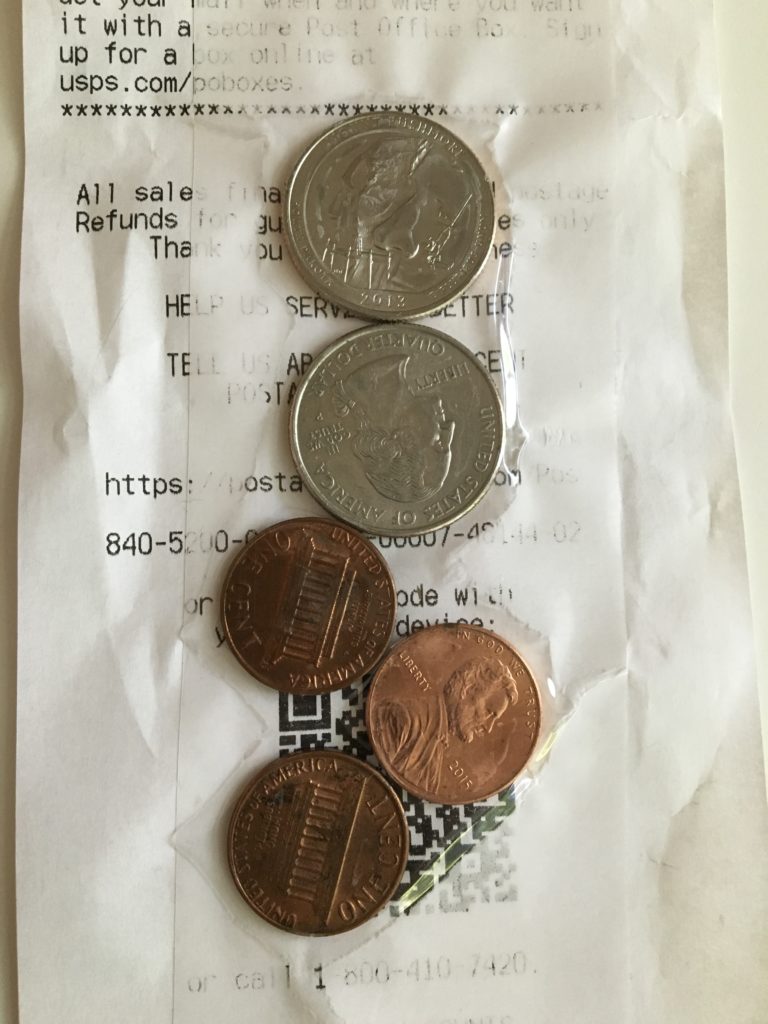 We've been trying to figure out why this was left with our mail.  The Wolvog believes that when I purchased a stamp last week, I walked away without collecting my change.  Which I know isn't true because I remember placing the quarters in my purse and thinking that I should transfer them to the separate coin purse that I use for paying parking meters.
But isn't that odd?  Chasing me down to give me back 53 cents?  Thank you, post office.  You guys often go above and beyond, but this really is the pinnacle of good (and intriguing) customer service.
*******
Stop procrastinating.  Go make your backups.  Don't have regrets.
Seriously.  Stop what you're doing for a moment.  It will take you fifteen minutes, tops.  But you will have peace of mind for days and days.  It's the gift to yourself that keeps on giving.
As always, add any new thoughts to the Friday Backup post and peruse new comments in order to find out about methods, plug-ins, and devices that help you quickly back up your data and accounts.
*******
And now the blogs…
But first, second helpings of the posts that appeared in the open comment thread last week.  In order to read the description before clicking over, please return to the open thread:
Okay, now my choices this week.
Something Out of Nothing writes about trying treatments again to have another child.  She worries, "This time, it doesn't just affect Hubby and me. There's a two-year-old girl whose life could be turned upside down for anywhere from a few months to the next eighty-or-so years while we figure out whether or not she'll be granted a sibling."  It is a great post about facing fears and moving ahead.
Silent Sorority has a post about meeting up with other bloggers.  I love the title: "The Exhilaration of Acceptance."  Isn't that exactly what it feels like when you find your group online?  She writes, "It doesn't need to be a grand gesture. In fact, it's the gentle gesture that often leaves the largest impact. A friendly smile, a nod of the head, an extended hand or kind word can change someone's day. It can also change someone's life."  Finding that connection online has changed so many people's worlds, and I love that she is getting to come face-to-face with the people who changed hers.
Evil Mom has a post about not knowing where life will take you, and how certain things circle back into your life in unexpected ways.  I guess posts like this give me hope that the things that I think have floated away indefinitely will possibly come back one day, albeit in a different form.  I especially love this: "Life is weird. Weird isn't bad, it's just unexpected."
Lastly, In Quest of a Binky Moongee has a post about her mother making other people baby clothes.  She doesn't necessarily want to see all the beautiful things her mother is making for other people, but her mother doesn't understand her point-of-view.  So she keeps peeking at the sweaters.  I love the end of the post, the hope looking forward to the day her mother begins knitting for her child.
The roundup to the Roundup: The case of the odd change.  Your weekly backup nudge.  And lots of great posts to read.  So what did you find this week?  Please use a permalink to the blog post (written between May 20th and 27th) and not the blog's main url. Not understanding why I'm asking you what you found this week?  Read the original open thread post here.