Thin Envelopes Require Thick Skin
I applied for a grant.  When I got the thin envelope in the mail, I knew it was a rejection.  Nothing good comes in a thin envelope, right?  It was a ridiculous reach that I wasn't really counting on getting, and it cost me nothing but time and ego to apply.  But still.
It hurt to see the thin envelope.
No one wants the thin envelope.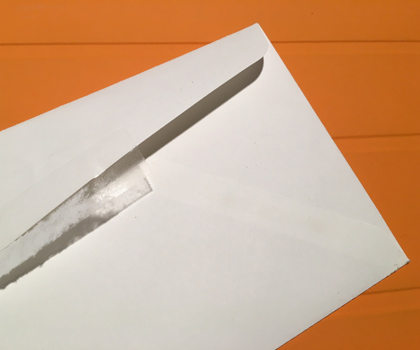 I texted Josh a picture of the rejection letter so he would know what a loser he was married to that I didn't get the grant, and he wrote back all of the other things I have achieved recently.  And he's right — I am only focusing on the thing I didn't get vs. the things I did get — but thin envelopes do that to you.
*******
We've started taking the twins to college campuses.  I know this seems ridiculously early, and we're certainly not making special trips to see schools.  But if we happen to be near a college they may want to apply to one day, we swing by the campus to get a sense of the space.  They're mentally making a list of what they like or don't like.
I think a lot about their senior year and how they'll have to apply to schools.  They'll get into some — I hope — and they'll likely get rejected from a few.  Those rejections are going to suck.  This grant — it was nothing, a little ego massage and money — but not getting into a school?  That's like having someone torch a bridge, cutting off one of your possible life route.
I know I would have been a different person if I had gone to a different school.
There's no way to protect them from that, unless they don't apply at all, which doesn't sound like the best way of dealing with the problem.  You're probably going to tell me that rejection is a life lesson they need to learn and it will make them more resilient and yadda yadda yadda.
But here's the thing: I've experienced this life lesson, and I have learned nothing from it.  Thin envelopes still hurt, even when they're low stakes.  Even when they come the same week you sign a new book contract.  If resilience is not hurting when rejection comes, I have not learned resilience.
J.K. Rowling just posted two of her rejection letters online.  You don't save things that are meaningless to you.  I'm not inside J.K. Rowling's brain, but I would hazard a guess that if she saved those rejections, they probably bothered her at the time.  Regardless of what else she has accomplished in life; despite moving millions of copies of her books.  Rejections still hurt.
So, no, I don't believe you can learn anything from rejection except that after you lick your wounds you need to be like Hercules Mulligan and get the fuck back up again.
Licking my wounds now.  I'll get back up soon.