#MicroblogMondays 87: Give Up or Take On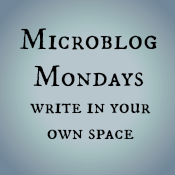 Not sure what #MicroblogMondays is? Read the inaugural post which explains the idea and how you can participate too.
*******
We are in the middle of Pesach. This is my hardest holiday. I am really bad at giving things up. I can't stop thinking about the bread and pasta that I'm not allowed to eat for 8 days.
It's just 8 days. There are plenty of things that I don't eat 8 days in a row, and it never feels like a hardship. An artichoke, for instance. I haven't had an artichoke in the last 8 days, and you don't see me wringing my hands over it. But tell me that I'm not allowed to have an artichoke for 8 days and all I will think about are artichokes 24/7.
Would you rather give up a food item for 8 days or have to eat an undesirable food item 8 days in a row?
*******
Are you also doing #MicroblogMondays? Add your link below. The list will be open until Tuesday morning. Link to the post itself, not your blog URL. (Don't know what that means? Please read the three rules on this post to understand the difference between a permalink to a post and a blog's main URL.) Only personal blogs can be added to the list. I will remove any posts that are connected to businesses or are sponsored posts.