#MicroblogMondays 85: Literary Geocaching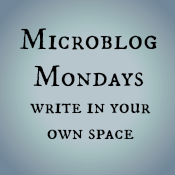 Not sure what #MicroblogMondays is? Read the inaugural post which explains the idea and how you can participate too.
*******
I've been debating whether or not to start The Silent History. Is anyone else reading it?
It's a novel that is written for the iPhone, and as you travel around, you unlock parts of the story based on your GPS coordinates. Actually, I think you can read the main chunk of the story from any space, but then there are hundreds of side stories that can only be unlocked from certain locations. It has been around for a while, and I've looked at it a dozen times without downloading it.
I sort of like this idea of needing to travel somewhere to read part of the story, with the location affecting how you read the words on the screen. And I sort of don't like this idea of getting off my bum and traveling somewhere for the sake of reading.
What do you think? Yay or nay on this idea of literary geocaching and only getting to read a story from a certain location?
*******
Are you also doing #MicroblogMondays? Add your link below. The list will be open until Tuesday morning. Link to the post itself, not your blog URL. (Don't know what that means? Please read the three rules on this post to understand the difference between a permalink to a post and a blog's main URL.) Only personal blogs can be added to the list. I will remove any posts that are connected to businesses or are sponsored posts.