#MicroblogMondays 84: Serial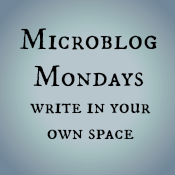 Not sure what #MicroblogMondays is? Read the inaugural post which explains the idea and how you can participate too.
*******
I am currently working my way through Ben Aaronovitch's books based on a friend's recommendation. They're fantastic — Harry Potter for grownups. It's a series, which is nice because if you like the characters in the first one, you know what you'll be reading next.
Though I know that — like the True Blood books — I'll probably take a break after three books to read something else, and then dip in and out of the series the rest of the way, even though I always start out with the intention to read a whole series back-to-back. I didn't think about how I read series until The Paperback Princess asked whether you read your series back-to-back or dip-in-and-out.
I'm a dipper, but I'm the worst sort of dipper because I pretend to be a back-to-backer so I can purchase the whole series.
How do you approach series: back-to-back books or dip-in-and-out? Or does it depend on the series itself or the number of books in it?
*******
Are you also doing #MicroblogMondays? Add your link below. The list will be open until Tuesday morning. Link to the post itself, not your blog URL. (Don't know what that means? Please read the three rules on this post to understand the difference between a permalink to a post and a blog's main URL.) Only personal blogs can be added to the list. I will remove any posts that are connected to businesses or are sponsored posts.