#MicroblogMondays 83: Injuries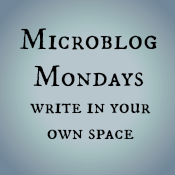 Not sure what #MicroblogMondays is? Read the inaugural post which explains the idea and how you can participate too.
*******
I gracefully stumbled into a low-lying planter at the mall. I was twisting backwards to try to figure out the name of a new store — it didn't have a sign above the entrance and had instead etched the name faintly into its glass windows — when my shoe caught on a six-inch decorative planter. I fell in slow motion, with the ChickieNob screaming, "Mooooooooooomeeeeeeeeeeee" as I tumbled forward, breaking my fall with my hands as I smashed my right knee into the tile.
Not one person stopped eating at the tables around me. Not one person came over to see if I was okay.
The ChickieNob and I sat there for a while, and then we slowly limped into a department store where I collapsed on a bench near the high heels. The lump on my leg was so huge that it looked like my kneecap had decided to get itself an extra backup kneecap, just in case, and set it at a jaunty angle like a beret. (The ChickieNob whispered, "It's a good thing you didn't check your unshaven legs when we were sitting in the casual part of the mall and instead waited to roll up your jeans when we were sitting amongst the fancy shoes.")
I moaned the whole ride home. Thank you, world, for creating ice.
What was your last injury?
*******
Are you also doing #MicroblogMondays? Add your link below. The list will be open until Tuesday morning. Link to the post itself, not your blog URL. (Don't know what that means? Please read the three rules on this post to understand the difference between a permalink to a post and a blog's main URL.) Only personal blogs can be added to the list. I will remove any posts that are connected to businesses or are sponsored posts.