#MicroblogMondays 82: First Tweet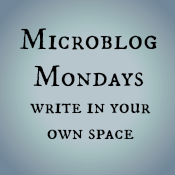 Not sure what #MicroblogMondays is? Read the inaugural post which explains the idea and how you can participate too.
*******
Today is Twitter's 10th anniversary. You go, Twitter! In honour of their 10th anniversary, they've made it easy to find your first Tweet. Just click on that link and it will tell you the first thing you wrote.
I wrote:
11/15/07 9 p.m. EST for Grey's Anatomy

— stirrupqueen (@stirrupqueen) November 15, 2007
Sort of an odd choice, and I don't really know what I meant by that. Was I trying to remember to watch Grey's Anatomy the next night?
Anyway, what was your first Tweet?
*******
Are you also doing #MicroblogMondays? Add your link below. The list will be open until Tuesday morning. Link to the post itself, not your blog URL. (Don't know what that means? Please read the three rules on this post to understand the difference between a permalink to a post and a blog's main URL.) Only personal blogs can be added to the list. I will remove any posts that are connected to businesses or are sponsored posts.