#MicroblogMondays 81: The Ides of March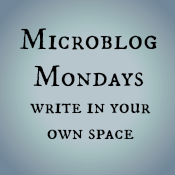 Not sure what #MicroblogMondays is? Read the inaugural post which explains the idea and how you can participate too.
*******
Tomorrow is the Ides of March. We're supposed to beware of it. It was actually the Roman new year, which means that today would be the Feast of Anna Perenna. It was a big celebration to mark the end of the year.
In addition to the usual festive food and alcohol, the day was marked by Mamuralia, a ritual that involved dressing up an elderly man in animal skins and then beating him while he ran out of town (provided that he was able to make it out of town while people beat him senselessly and that he didn't die from the stench of wearing the skin of an animal over his body). He was to represent the old year, driving it away to make room for the new one.
Are accounts of this ritual accurate? I'm not sure I want to know. I just love the fact that it could possibly be true.
So, in honour of the Roman new year, what would you figuratively get rid of today to leave in the old year, and what do you want to do differently in the new?
*******
Are you also doing #MicroblogMondays? Add your link below. The list will be open until Tuesday morning. Link to the post itself, not your blog URL. (Don't know what that means? Please read the three rules on this post to understand the difference between a permalink to a post and a blog's main URL.) Only personal blogs can be added to the list. I will remove any posts that are connected to businesses or are sponsored posts.