#LetsMove to the White House
I was once sitting with a senior staffer at the White House before an event, and she admitted that despite seeing the President every day for her job, it still took her breath away every single time she saw him in the hallway or he walked into a meeting. She said the day that doesn't happen is the day when you know there is something wrong with you. That it means you're taking it for granted that you are in this amazing place with amazing people, taking part in making history.
I think about that every time I'm in the White House.
I do a self-check and make sure that I appreciate how lucky I am to be inside that building, interacting with the people who work within its walls.
I got to go to the White House for the Let's Move event on Tuesday morning. It was a magical day. Hanging out with super smart women, listening to other super smart women speak: Seriously, so lucky.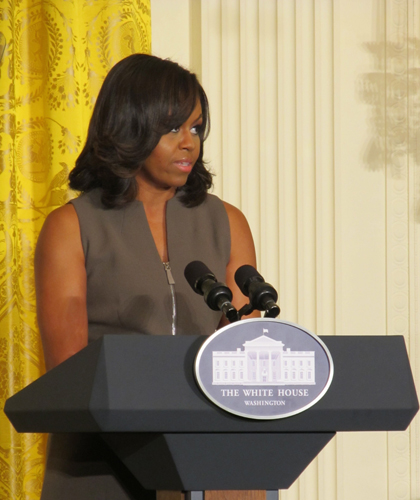 Every single person speaking not only inspired me to make a big salad for dinner but to continue doing the work of making sure that healthy options are the easy, go-to options for the next generation. When you hear the statistics on kids and obesity, there isn't another sane decision.  (1 in 3 kids!)
As Dominique Dawes pointed out, we don't wait until kids are 13 to start teaching them to brush their teeth or wash their face, but for some reason, we think it's okay to have kids eat overly processed junk food when they're young and think that we can teach them differently when they're older.
Probably my favourite part of the day was learning about FNV. Have you heard about this yet? It hasn't officially been rolled out, but Partnership for a Healthier America put together a brand campaign for… fruits and veggies. Get it?  They're combatting advertising for junk food on its own terms, making equally enticing, celebrity-hawked, a little cheeky ads for broccoli and carrots. My favourite so far has been for Wolverbean.
Okay, and my other favourite part of the day was the First Lady. She rocks so hard. I will forever be grateful that she took on healthy living and making sure that kids find the same message (instead of conflicting messages) in as many places as possible as her cause at the White House. Thank you for your work in getting better food in schools. Thank you for your work in getting rid of food deserts. Thank you for getting spaces built and programs in place that get kids moving. Thank you, FLOTUS. Please know how much your efforts are appreciated.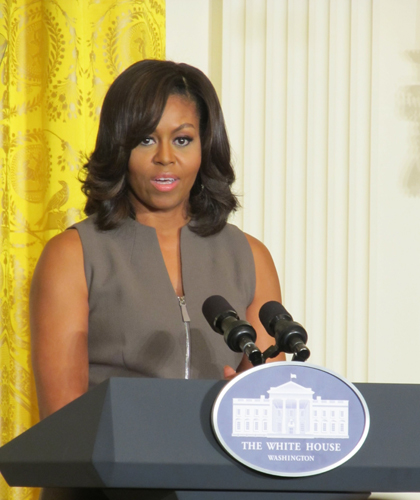 The day ended in the White House garden, squatting in the aisles, photographing kale and lettuce. And yes, I took a moment to check in and make sure that I appreciated where I was and what I was doing. I did. I appreciate it so much.
A few more pictures from the day: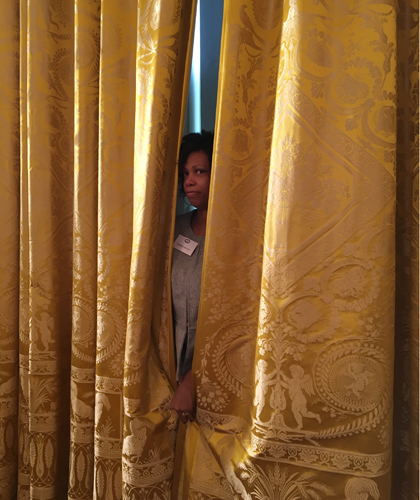 Can you find the Arnebya?  It was so good to get to sit with her vs just talk via email.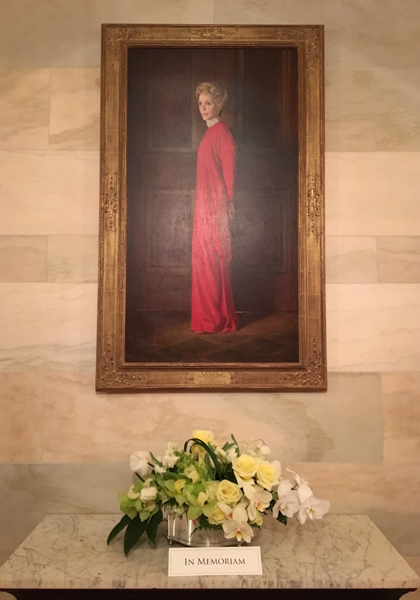 Flowers under Nancy Reagan's portrait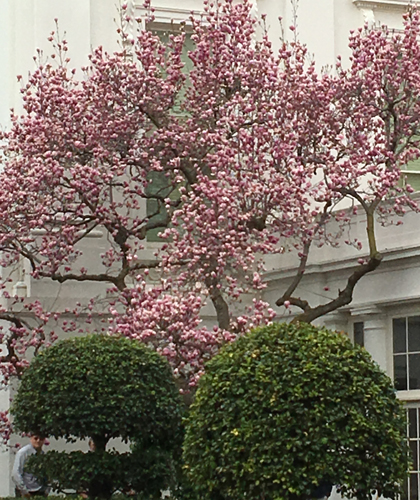 The magnolia trees were in bloom.  It was so pretty.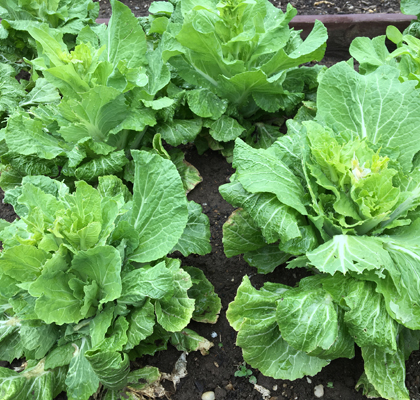 The White House garden makes you want a big salad.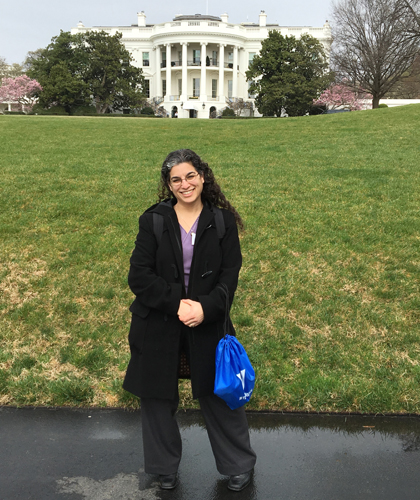 Squinting on the White House lawn.  Is that the… sun?
Thank you, BlogHer and SheKnows (especially Jenny Lauck), for making this day possible.