Company
I spent the morning about a week ago dropping very obvious hints that I wanted the Superman LEGO Dimensions action figure.  As Josh made the ChickieNob's lunch, I loudly told her all about how much I loved Superman.  She kept saying, "I know."  Which only made me say it more emphatically.  Did she know that the Superman can swim AND fly in the game?  And melt gold and ice with his eyes?  And see through green walls?  And fixed cracked walls?
Did she know all these things PLUS how much I love Superman?
(Aside: I love Superman.  Josh and I like to play a game called "You Can Only Save One" where two items are on fire and you can only save… well… one of them. (I'm fairly certain you were able to get there on your own based on the title of the game, but just in case.)  One old favourite is DC Comics vs. Marvel.  As much as we both love X-Men, we both save DC.  Josh saves DC for historical reasons, but I save DC because Superman is such a great character.  And he's cute.
Did I mention that Josh is a good person and I am shallow?)
Anyway, one of the reasons I felt that Josh should get me Superman is that I could keep Superman on my desk when not in use with the game, and he would keep me company.
That's a lot of pressure to put on molded plastic, but I don't have co-workers.  Or, I do, but they don't work in my office.  It's just me and Truman, and Truman likes to nap.  When he's awake, he's attacking the water bottle or begging for cookies.  Whereas LEGO figures are really good at keeping people company and being very quiet and respectful of my work time.
Like there are days when I work with Harry, Ron and Hermione.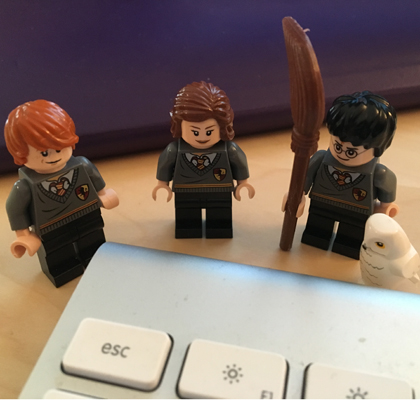 They make me feel good.  They make me think about happy things (like Harry Potter!) while I'm plugging away at work.  I ask them their opinion when Truman is too busy fighting his water bottle to listen.  Yes, they may be inanimate plastic, but when I put on my Ravenclaw robes, it looks like we're all in uniform.  And that is important, too.
Anyway, Josh bought me Superman.  And he is so freakin' awesome.  Except that he swims really slowly in the game, so I have to use Aquaman to get wherever I'm going and then switch to Superman to solve the puzzle.  But moreover, during the day, Superman gives me his opinion on comma placement as he hangs out on my desk.  Best co-worker ever.
P.S. I've now set my sights on Wonder Woman.  If Josh won't let me bring stray cats into the house, the least he can do is buy me plastic toys.