Your Personality Based on Your Favourite Harry Potter Book
Mugglenet recently put together a personality test based on your favourite Harry Potter book, and I was extremely disappointed with my results. They seemed to disregard anything about the books to arbitrarily assign meaning to your choice. But rather than stew in my sadness, I decided to put together my own Harry Potter personality test, revealing what is important to you based on your favourite book in the series.
So scroll down to your favourite book and see if that's the reason it got under your skin. And yes, there is an option for people who didn't read or didn't finish the books.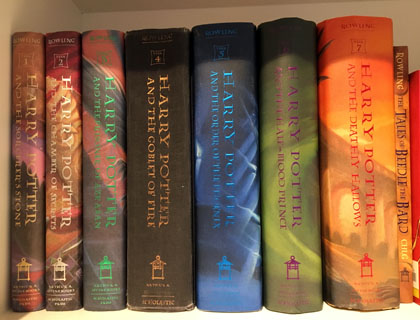 Harry Potter and the Sorcerer's Stone
You love beginnings; when everything feel electric and new. In fact, the beginning is the best part. You love plotting out new blogs and new projects, though you rarely follow through with more than a few posts or gathering supplies. Still, if there was a job where you could just start things for other people and then they would take it over, you would be golden because no one does beginnings like you do beginnings. When you are on fire, you cannot even take a deep breath because you have so much energy coursing through you. Your favourite part of book one? When Harry enters Diagon Alley for the first time. Your heart exploded over the idea that such a place could even fictionally exist.
Harry Potter and the Chamber of Secrets
You keep up with the Kardashians, and if not the Kardashians, then celebrities like the Kardashians since People magazine is your first choice in any doctor's office waiting room. You are also the type of person who finds favourites on reality television shows and cheer them on from afar. You have been known to post Brene Brown quotes on your Facebook wall. But strangely enough, Sherlock is one of your favourite shows, even though you can't imagine reading the original Arthur Conan Doyle stories. In other words, you like a film of distance between you and celebrities: you like to read about them in magazines and follow them on Twitter and you may even try to discreetly snap a photo of someone if you saw them dining in a restaurant. But you'd stop short of walking up to their table and interrupting their meal for a picture.
Harry Potter and the Prisoner of Azkaban
Come on, this is a book about depression. People who love this book are drawn to its pages because it finally gives them words in which to describe their mind. It is a gorgeous book that treats mental illness as not something that can be banished with a single act, but something that needs to be attacked again and again. Additionally, you are a person whose daydream wondering makes your reality more livable. That longing is important; it grounds you and gives you direction.
Harry Potter and the Goblet of Fire
You are competitive, but you also suffer from Imposter syndrome. You're very scared that you don't have what it takes, but calm down because you probably do. And even if you don't, no one is going to find out about it. But back to that competitive thing. You don't just like to win, you also take a look at the people around you and need to mentally find where you have an edge over the other person. Maybe you have a better marriage or better house or better job. Whatever it is, you need to find it so you can set aside your competitiveness and enjoy being with the other person without feeling jealous.
Harry Potter and the Order of the Phoenix
You feel calm when you feel like you belong, and you feel ragey when you don't. For instance, you love being invited to parties, though you hate attending them. But if you see people post pictures of an event on Facebook that you weren't invited to? You instantly want to unfriend the host and all of her minions. You are in touch with your inner teenager, and that can be a good thing and a bad thing. You still have a lot of hope, but you get annoyed easily and sometimes you utter the words, "it's not fair" when fairness has nothing to do with the situation.
Harry Potter and the Half-Blood Prince
You love to listen to other people's stories. Humans of New York is a favourite site (at the very least, you click on the status updates when people share them in your Facebook feed), but you're also the type of person who ends up talking to the person sitting next to you on an airplane. You like to figure out what makes people tick, and sometimes in social situations, you listen more than you speak. Moreover, you're a collector of stories. You hate to lose things, and you keep a blog or journal partly to connect with other people but also to have a written record so you don't forget things.
Harry Potter and the Deathly Hallows
You are the person who needs to have the money in hand. You're not happy with an IOU; you need to be able to feel the dollar bills in order to feel settled. Closure if a big deal in your world, and you feel like you can't mentally move on until you've ticked something off your to-do list. Half-done is not done, it's just half-done. You like books that make you feel something; that make you feel as if you are being transported to another space. As much as you didn't want this book to start, you also couldn't put it down once you read the first page, and because of that, it has held your heart more than any other book in the series.
TL;DR Series
I'm assuming that you don't like fantasy? Or you buck conventions so if everyone is telling you to read a book you will purposefully not read the book? Or you can't see committing to 7 books but maybe would have read Harry Potter to see what the fuss was about if J.K. Rowling could have told the story in about 200 pages total?
Got a Few Books In and Quit
Again, I'm going to assume that you don't like fantasy? Or you buck conventions so if everyone is telling you that you will love a book, you will purposefully not love that book though you'll never admit that is the reason you don't like the book? Or you started reading and said, "7 books? I cannot do this for 7 books. If she could tell this story in 200 pages I would have finished it."
Got a Few Books In and Will Return
You like to save books for when you know you'll need a good book, plus you're the type of person who needs to mix up your reading list. You may chase three fiction books with a few memoirs and a social science non-fiction book before returning to a series again. Moreover, this is not your only unfinished series. You also got a few books into the Sookie Stackhouse books or a few books into Game of Thrones, and you're planning to return to those series, too. That is, when you need them.
How did I do? Which was your favourite book, and did I describe (at least an aspect) of your personality?