#MicroblogMondays 78: Yes, Those Are My #ObamaAndKids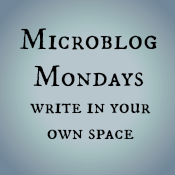 Not sure what #MicroblogMondays is? Read the inaugural post which explains the idea and how you can participate too.
*******
Thank you to everyone who sent along the Time magazine or the Jezebel article about that hashtag #ObamaAndKids. We were out all day, so I didn't know that was happening on Twitter.
That photo of the twins that they included actually marks an interesting moment. It was the first time I let the kids go off with a stranger.
The ChickieNob had questions for the President, so one of the staffers arranged for the kids to go over to the other side of the room to meet him. I wouldn't be able to see them during that time because there was a crowd around the President. I must have had a look on my face when they told me what was going to happen because the woman touched my arm and said, "I will not let anything happen to them. They are in the safest place in the US, and I will stay with them the whole time."
(In my defense, it was a really big room. And they were really small kids. And I couldn't see them. And I'm a really nervous person, in general.)
She clearly returned them to me, unscathed. And while they were over there, this super-nice photographer we met earlier in the day photographed them for me at the same time as Pete Souza so I could see what was happening while they were out of my sight line. The whole experience made me chill out (a bit) but was moreover a really good reminder that there are a lot of kind adults out there who are going to watch out for your kids when you're not around. And those adults that day — none of whom had kids and therefore weren't doing it from experience because they knew how nerve wracking it can be to be separated from your children in a crowd — were good people who set my heart at ease that day.
And to keep me from sounding like the only anxiety-prone woman on the Internet, tell me what makes you nervous. And has anyone ever helped you quell your fears?
*******
Are you also doing #MicroblogMondays? Add your link below. The list will be open until Tuesday morning. Link to the post itself, not your blog URL. (Don't know what that means? Please read the three rules on this post to understand the difference between a permalink to a post and a blog's main URL.) Only personal blogs can be added to the list. I will remove any posts that are connected to businesses or are sponsored posts.