#MicroblogMondays 79: Habits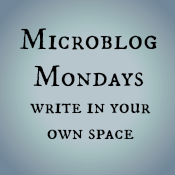 Not sure what #MicroblogMondays is? Read the inaugural post which explains the idea and how you can participate too.
*******
The twins and I have settled into a thoroughly enjoyable and very bad habit. Every week before their art class, we go out for water ice and custard. It started because I was having a bad day. "I need something nice. Let's go out for gelati."
Every week since, we've found some reason to need gelatis. By last week, we were no longer pretending. The kids got in the car after school and said, "Are we going out for gelati?" As if it were a question. As if I hadn't flipped my turn signal to take us in the direction of the store. "Oh? Do you want to?"
I told them that we had to break this habit because it's so bad for our bodies. The ChickieNob added, "It's so bad for our bodies, but it's so good for our souls." How can I argue with that?
Do you have any bad habits that bring you so much pleasure?
*******
Are you also doing #MicroblogMondays? Add your link below. The list will be open until Tuesday morning. Link to the post itself, not your blog URL. (Don't know what that means? Please read the three rules on this post to understand the difference between a permalink to a post and a blog's main URL.) Only personal blogs can be added to the list. I will remove any posts that are connected to businesses or are sponsored posts.