#MicroblogMondays 77: The Peak/Peek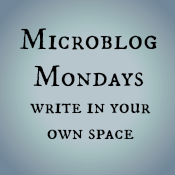 Not sure what #MicroblogMondays is? Read the inaugural post which explains the idea and how you can participate too.
*******
Though we've known about the theater production of The Cursed Child for a while (and my friend has tickets; she has tickets, people!), the Internet lost their mind over the announcement that JK Rowling would be releasing the script in bound form. Will I buy it? Yes, because all of our money is earmarked to be given to JK Rowling. But no, I have not preordered it yet, nor have a lost my mind.
There are some people who do not want to read the script because they feel like the series ended so neatly back in Book 7 (save for the years into the future chapter), and to return to these characters is to ruin something. Harry is forever 17, surrounded by his friends after ridding the world of its greatest evil. Who wants to peek at a middle aged Harry Potter with a beer gut and receding hairline? At the same time, who wants to imagine that our beloved Harry Potter peaked in high school? That after all of that excitement, he has lived a fairly tame married life, has kids, reads the newspaper? Anything other than fighting the Dark Lord with the whole wizarding world behind him is a bit of a letdown.
But will I read it? Hells yeah. It's sort of like Facebook: I don't really want to think of all of us as middle aged, but I like peeking at old classmates to see how they turned out.
Do you want to know what happened to Harry Potter years down the road, or are you happy to keep him 17 forever?
*******
Are you also doing #MicroblogMondays? Add your link below. The list will be open until Tuesday morning. Link to the post itself, not your blog URL. (Don't know what that means? Please read the three rules on this post to understand the difference between a permalink to a post and a blog's main URL.) Only personal blogs can be added to the list. I will remove any posts that are connected to businesses or are sponsored posts.