#MicroblogMondays 75: Restaurant Ordering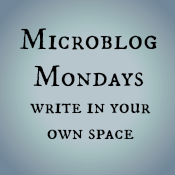 Not sure what #MicroblogMondays is? Read the inaugural post which explains the idea and how you can participate too.
*******
A few years back, Lifehacker had an article about letting your friends order for you. This idea not only horrified me enough to bookmark the post, but it has stuck with me since then, turning around in my brain every time I meet a friend at a restaurant.
Are you kidding? Order for me? I barely know what I want, and I have full access to my tastebuds and brain. How can someone who isn't me know what I want to eat?
And I would never want to order for someone else. How could I possibly know what they're in the mood to eat unless they tell me? And if they're telling me, they can order for themselves.
Would you ever let someone choose what you're going to eat at a restaurant?
*******
Are you also doing #MicroblogMondays? Add your link below. The list will be open until Tuesday morning. Link to the post itself, not your blog URL. (Don't know what that means? Please read the three rules on this post to understand the difference between a permalink to a post and a blog's main URL.) Only personal blogs can be added to the list. I will remove any posts that are connected to businesses or are sponsored posts.