Mayor of Crab Towne
When I grow up, I want to be mayor of Crab Towne, USA.  It is a physical space of pure love; a crab shack filled with dozens of fried food options, a liquor store filled with dozens of alcoholic options (actually, I admittedly haven't been in the liquor store part so I'm assuming they have dozens of options, but maybe it's just 5 or 6), and a vintage arcade filled with dozens of video games.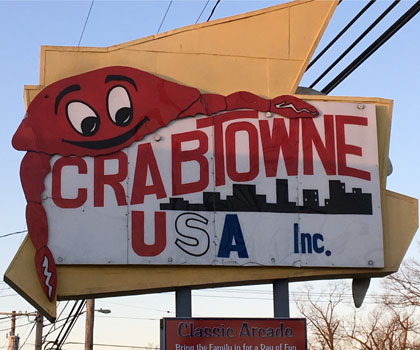 Most of the listings on the classic arcade site (which is bookmarked on my phone for easy access whenever we travel) have two or three entries.  But Crab Towne, USA caught my eye because it was a solid paragraph of games.  The first time I saw the entry, I started gasping and rolling about in ecstasy.  But would the Crab Towne of my dreams match the Crab Towne of reality?
I am pleased to report that it does.  It swims past the world of dreams into an 8-bit reality filled with blinking lights against a steamy background of fried crab perfume.
The ChickieNob is a pinball wizard and she stuck firmly with a single pinball machine for 20 consecutive games.  The Wolvog moved between some of his favourites (Galaga) and driving games.  Josh cleared boards on Ms. Pacman.  And I spent a lot of time exploding creatures in Dig Dug.
And I'm not going to lie to you, it was hard to leave.  It was hard to pull out that bottle of hand santizer and wash away the stickiness of Crab Towne.  It was hard to drive away from that 8th wonder of the world.  How did so much happiness get stuffed inside a single room?
I will be celebrating my birthday there this year, a plastic cup of quarters in hand.  Just as it should be.