Snowtrapped
We're snowtrapped in the house.  But I have a lot of eggs.  Like a lot of eggs.  And two bags of clementines.  It's still coming down and will continue well into the night.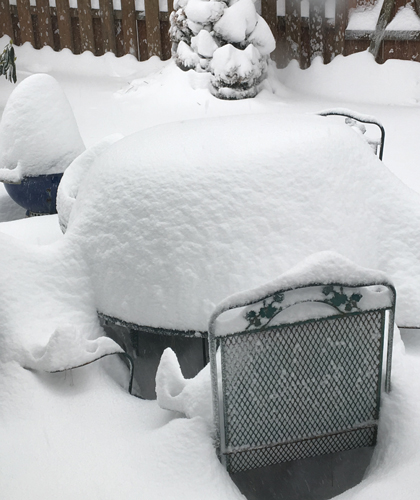 Riddle me this, Batmans (Batmen?): Do you leave your windshield wipers up or down when it snows?  Have you ever seen this done?  Before the snow starts falling, people pull their windshield wipers away from the windshield so they stick out.  Josh does this.  I told him not to do it this time because I was worried the snow would weigh so much that it would crush those fragile wipers.
While I love a good snowstorm, this one is making me really nervous.  I woke up early yesterday and started bleaching down the house.  I wanted to be able to take out the garbage one last time and have everything clean, but it was also about trying to tame my anxiety and instate order when there is no order.
Capital Weather Gang made me nervous about roofs collapsing.  I'm worried about neighbours not being prepared because it's their first time around snow.  I'm worried about trees falling and houses being damaged and people dying in car accidents.  I'm worried about people not being able to get to the hospital if they fall ill at home.
Cleaning didn't help.  I am still nervous, but there is nothing I can do about it.  It's not as if I can stop the sky from dumping snow.  I'm just going to hope that we keep power so I can plow through work and then play some Doctor Who Monopoly.  But it's sobering as much as it is pretty.