#MicroblogMondays 74: Bibliotherapists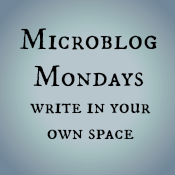 Not sure what #MicroblogMondays is? Read the inaugural post which explains the idea and how you can participate too.
*******
Mental Floss recently had an article about bibliotherapists. They are support staff for therapists who recommend books with the understanding that a book can sometimes change your mood or help you see a situation in a new way or simply transport you somewhere else for a few hours. Mental Floss explains,
Patients fill out a questionnaire about their reading habits and issues they might be having, and get a prescription for something that speaks to their specific set of circumstances.
I kind of love this idea, though I don't know how I would feel about going to a bibliotherapist. I love getting book recommendations, but I sort of balk at being told what to read.
What do you think? Do you enjoy being told what to read?
*******
Are you also doing #MicroblogMondays? Add your link below. The list will be open until Tuesday morning. Link to the post itself, not your blog URL. (Don't know what that means? Please read the three rules on this post to understand the difference between a permalink to a post and a blog's main URL.) Only personal blogs can be added to the list. I will remove any posts that are connected to businesses or are sponsored posts.