#MicroblogMondays 73: Dynamints!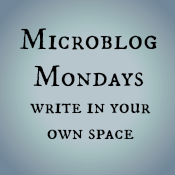 Not sure what #MicroblogMondays is? Read the inaugural post which explains the idea and how you can participate too.
*******
Back when we were little, my grandparents would take us to the A&P and buy us Dynamints and Fruit Stripe gum. Dynamints were suppository-sized Tic Tacs that came in a three-flavour pack: grape (which was the best flavour), orange, and cherry. Not only were they a delicious candy, but it was fun to shake the box and annoy everyone around you.
I really miss Dynamints. I don't think they make them anymore.
I'm also missing root beer flavoured and Stick-o-Pep Lifesavers.
What candy or former food product do you miss?
*******
Are you also doing #MicroblogMondays? Add your link below. The list will be open until Tuesday morning. Link to the post itself, not your blog URL. (Don't know what that means? Please read the three rules on this post to understand the difference between a permalink to a post and a blog's main URL.) Only personal blogs can be added to the list. I will remove any posts that are connected to businesses or are sponsored posts.