#MicroblogMondays 71: Ideal House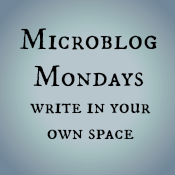 Not sure what #MicroblogMondays is? Read the inaugural post which explains the idea and how you can participate too.
*******
I want to live in a hobbit hole. Mental Floss recently had an article about a manufacturer of prefabricated homes that are covered in sod and look like hobbit holes. Though I realized looking at the houses that what I want isn't the outside of the hobbit hole but the inside.
I like small, cozy spaces with lots of room for shelving books neatly (so they can be found quickly). I like squashy chairs and throw blankets and wood. I want a little bed like this for nap time. (Actually, does anyone remember a few years ago that there was a picture of a bed like this — a frame that had books inside — that we were all covetously passing around the Internet? I can't find the bed of my dreams despite a lot of keyword Googling.)
What is your ideal home?
*******
Are you also doing #MicroblogMondays? Add your link below. The list will be open until Tuesday morning. Link to the post itself, not your blog URL. (Don't know what that means? Please read the three rules on this post to understand the difference between a permalink to a post and a blog's main URL.) Only personal blogs can be added to the list. I will remove any posts that are connected to businesses or are sponsored posts.