#MicroblogMondays 70: Resolutions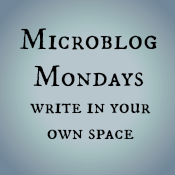 Not sure what #MicroblogMondays is? Read the inaugural post which explains the idea and how you can participate too.
*******
It feels like I should be making a resolution this week. Setting a goal. Giving myself a focus for the year. I did it last year, and that worked well. But I haven't come up with one. There is plenty I would change about myself, but I highly doubt that I would be successful in changing those things. So why dedicate the time and energy to something that is essentially Sisyphean in nature? It's hard to change a personality.
I do question why we always have to be working to change ourselves. Why can't we ever be happy with the status quo? Why isn't it okay to say, "You know, I don't have any resolutions this year because there is nothing I need to work on. I'm happy as is."
Because… it isn't. We live in a self-help culture. We're always supposed to be looking at ourselves with a critical eye and then working on… something. If we've got time to lean, we've got time to clean. Or something like that.
Are you making a resolution this year? What is it?
Like last year, "peruse the list and see if there are any resolutions you can help someone else reach. Know what they want to learn? Give them some tips to get started. Have a great piece of advice that helped you reach the same resolution in the past? Pass it their way. Consider it crowdsourcing the springboard to get your resolution going."
*******
Are you also doing #MicroblogMondays? Add your link below. The list will be open until Tuesday morning. Link to the post itself, not your blog URL. (Don't know what that means? Please read the three rules on this post to understand the difference between a permalink to a post and a blog's main URL.) Only personal blogs can be added to the list. I will remove any posts that are connected to businesses or are sponsored posts.