#MicroblogMondays 69: Best Christmas Ever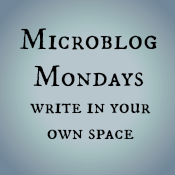 Not sure what #MicroblogMondays is? Read the inaugural post which explains the idea and how you can participate too.
*******
So. What are you doing for Christmas? Are you traveling or hosting or doing a small celebration at home? Did you decorate or skip it this year? And if you decorated, do you have Christmas lights on your house? I love those. Do people turn them off when they go to bed, or do you leave them on all night?
I sort of think of them like a lighthouse, keeping lonely drivers company on the road.
If this Christmas is not your best Christmas, then what has been your best Christmas ever up until this point? What made it so memorable?
Living vicariously through all of you and by watching Love Actually.
*******
Are you also doing #MicroblogMondays? Add your link below. The list will be open until Tuesday morning. Link to the post itself, not your blog URL. (Don't know what that means? Please read the three rules on this post to understand the difference between a permalink to a post and a blog's main URL.) Only personal blogs can be added to the list. I will remove any posts that are connected to businesses or are sponsored posts.