#MicroblogMondays 68: Still Cute?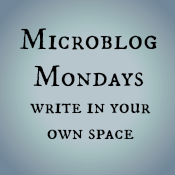 Not sure what #MicroblogMondays is? Read the inaugural post which explains the idea and how you can participate too.
*******
We recently rewatched Back to the Future with the twins because we've been playing LEGO Dimensions and there is a Back to the Future level. The ChickieNob informed me that Michael J Fox was not that cute, which caused me to gasp and sputter.
Michael J Fox is cute, alright? He was cute then and he's cute now. He's cute. Case closed.
But she did make me roll out my long list of childhood crushes, and most of them either haven't aged particularly well or when I go back and look at pictures of their younger selves, I don't see what I saw at the time. Meaning, I don't know why I thought they were cute.
Do you still think your childhood crushes are cute?
*******
Are you also doing #MicroblogMondays? Add your link below. The list will be open until Tuesday morning. Link to the post itself, not your blog URL. (Don't know what that means? Please read the three rules on this post to understand the difference between a permalink to a post and a blog's main URL.) Only personal blogs can be added to the list. I will remove any posts that are connected to businesses or are sponsored posts.