#MicroblogMondays 65: Modes of Transportation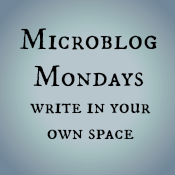 Not sure what #MicroblogMondays is? Read the inaugural post which explains the idea and how you can participate too.
*******
It's Thanksgiving week in the United States. Wednesday is one of the busiest travel days of the year over here, though people will be traveling in huge numbers all week.
It is hard to know which mode of transportation has the heaviest volume. Airports, trains, and roads are all packed. Traffic, in general, makes my travel anxiety shoot through the roof.
But I would take packed roads over a packed plane or packed train (having experienced all three) any day. One, the timing of my travel is more flexible in the car. Two, I can take breaks when I feel my blood pressure soaring. And three, it is possible to pull off the road for Twizzlers. If I had to rank them from worst to best, I would say planes, trains, and cars.
At any time of year, what is your least favourite mode of transportation?
*******
Are you also doing #MicroblogMondays? Add your link below. The list will be open until Tuesday morning. Link to the post itself, not your blog URL. (Don't know what that means? Please read the three rules on this post to understand the difference between a permalink to a post and a blog's main URL.) Only personal blogs can be added to the list. I will remove any posts that are connected to businesses or are sponsored posts.