#MicroblogMonday 66: Thankfulness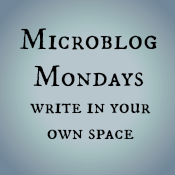 Not sure what #MicroblogMondays is? Read the inaugural post which explains the idea and how you can participate too.
*******
If you live in the US, you likely spent the last five days either cooking a big meal, consuming a big meal, and/or perusing the big sales.
We were only in charge of the cranberry sauce and dessert, so we didn't have to cook a big meal. But we consumed a big meal. And while I didn't end up shopping since we have nothing to shop for in terms of gifts, I did purchase two things on our to-buy list simply because sales made it easy.
If you live in the US, what did you say that you were thankful for? And if you don't live in the US, it's a nice practice to pause from time to time and reflect on what makes you grateful so join along. What is on your list?
*******
Are you also doing #MicroblogMondays? Add your link below. The list will be open until Tuesday morning. Link to the post itself, not your blog URL. (Don't know what that means? Please read the three rules on this post to understand the difference between a permalink to a post and a blog's main URL.) Only personal blogs can be added to the list. I will remove any posts that are connected to businesses or are sponsored posts.