#MicroblogMondays 60: Harry Potter and Alice's Adventures in Wonderland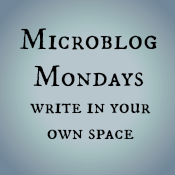 Not sure what #MicroblogMondays is? Read the inaugural post which explains the idea and how you can participate too.
*******
This weekend we went to a second Harry Potter festival.  This time the weather cooperated, so we got to wear our Ravenclaw robes.  This festival was a lot more crowded.  You've never seen so many wizards in one place.
We lucked out that our visit to Philadelphia coincided with the Rosenbach Museum in Center City displaying the original copy of Alice's Adventures in Wonderland for the 150th anniversary of the book.  It's the handwritten copy that Dodgson presented Alice Liddell when she asked him to write down the story, complete with the original, pre-Tenniel illustrations.
It was very special that we got to see the book the day before St. Frideswide's Day, who is the patron saint of Oxford and her story (and the church in Oxford connected to her) are entwined in the story of the book.  We celebrate St. Frideswide's Day every year with scones and tea, which we'll have after the kids come home from school.
What is the most amazing thing you've seen this week?
P.S. I wrote about St. Frideswide before this with the Alice tour of Oxford.
*******
Are you also doing #MicroblogMondays? Add your link below. The list will be open until Tuesday morning. Link to the post itself, not your blog URL. (Don't know what that means? Please read the three rules on this post to understand the difference between a permalink to a post and a blog's main URL.) Only personal blogs can be added to the list. I will remove any posts that are connected to businesses or are sponsored posts.