#MicroblogMonday 61: Halloween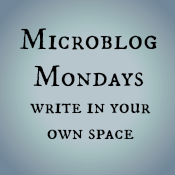 Not sure what #MicroblogMondays is? Read the inaugural post which explains the idea and how you can participate too.
*******
It's Halloween this weekend. I'm debating between going as a 90's slacker and a random Ravenclaw student. I have both costumes pulled together; I'm just trying to gauge the weather that night and which one will be better suited for the temperature.
I love taking the kids trick-or-treating. They go in a huge pack, and the adults follow behind. What I really mean is that I like seeing the kids getting candy, and then going home and gorging myself on that candy until bedtime.
Are you dressing up? What will your costume be? If you're not dressing up this year, what was your best costume ever?
*******
Are you also doing #MicroblogMondays? Add your link below. The list will be open until Tuesday morning. Link to the post itself, not your blog URL. (Don't know what that means? Please read the three rules on this post to understand the difference between a permalink to a post and a blog's main URL.) Only personal blogs can be added to the list. I will remove any posts that are connected to businesses or are sponsored posts.