The Lowercase Version of Okay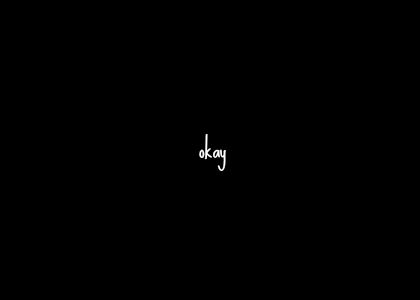 I wasn't going to see the film version of the Fault in Our Stars.  I liked the book a lot, and I didn't think the film version would add to the story.  But I was at the library, trying to grab a DVD, and it was the first title my eyes recognized.  So I brought it home and watched it that night, and… it may have been better than the book.  I sort of cringe writing that.
But it contained the wording of the book for a lot of the dialogue, and it stayed fairly true to the scenes in the book.  I found the actors' versions of those characters maybe a little bit more believable than the paper versions.  I believed they were giddy teens in love, slightly awkward, definitely emotional, and just really hopeful that it would all be okay for both of them in the end.  Even if it wasn't the traditional definition of okay.
*******
The word okay repeats many times in the book (and movie), and it becomes a running… sentiment… through the text.  I can't really call it a running joke, because it isn't funny.  But it definitely means something different every time it comes up, from mocking two other characters in the story to ironically admitting that everything is not okay.
I feel like for the last several years, society as a whole has been in a war against the word okay.  We curate our lives online to look happy.  We read books about how to gain happiness, either directly when we're talking about Gretchen Rubin, or indirectly when we have people presenting happiness as the side effect that comes from decluttering your life like Marie Kondo.  We go on wellness retreats to regain happiness in our life and talk about finding bliss through ordering the perfect meal and hang inspirational quotes on our walls that we find in kitschy stores.
And all of that is okay.  Really, it's okay.  I think it is wonderful to strive towards happiness.
But in this world we've created, okay becomes the last rung on the happiness ladder before one steps off into the abyss, the lowest appropriate thing a person is allowed to say as an answer to the question, "how are you?"
Even if you're going to launch into the truth and give the decidedly not okay details of your current situation, you first need to reassure that you're okay.  That you're fine.  Even when you're not fine.
We've created this lowercase version of okay to use as a buffer against reality, a soft landing into bad news, a little door we're expected to open for people before we lead them somewhere unpleasant.
We use the word even when things are clearly not okay, so the word becomes, if not meaningless, then definitionally different like a homophone.  There is okay, which means that everything is fine, and then there is okay, which means that we wish it were fine, but it's not.
I liked it when okay meant that things were okay.  That they may not be wonderful and exciting and drenched in happiness, but things weren't bad.  They were, as I said, that final rung of the ladder dangling over the abyss.  Firm ground to stand on.
And maybe that is why I loved the movie: all the versions of okay that maybe were too subtle in the book.  The way the word was whispered or spat or said.  It became less about the two teenagers in the book, and more about all of us, as a culture, that clings so tightly to this word that we've rendered meaningless in a world where we present digital and actual smiles, even when things aren't exactly okay.
Lest you worry, things are actually okay.  The movie just triggered this acknowledgment of how many times I've used that word when things were otherwise.