#MicroblogMondays 57: Ethical Dinner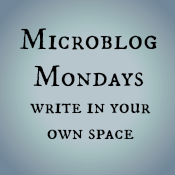 Not sure what #MicroblogMondays is? Read the inaugural post which explains the idea and how you can participate too.
*******
Not Quite Nigella had a post recently about an ethical dinner she attended. She explains:
The Ethics Centre's new series of dinners called "Hard Things To Talk About" pairs innovative and surprising food, performances, speakers and thought provoking conversation. This isn't a regular, "safe" dinner but one where your preconceptions may be dashed and you may be asked uncomfortable questions.
At her dinner, the theme was bias. The food, the conversation, the speakers, the interactions were all meant to challenge her to think about bias.
It sounds like a cool idea, though one that could grow quite uncomfortable if not done well.
Do you think you would be up for a dinner like this? Would it be different if you were paired with someone you would have to keep seeing in life vs. a stranger?
*******
Are you also doing #MicroblogMondays? Add your link below. The list will be open until Tuesday morning. Link to the post itself, not your blog URL. (Don't know what that means? Please read the three rules on this post to understand the difference between a permalink to a post and a blog's main URL.) Only personal blogs can be added to the list. I will remove any posts that are connected to businesses or are sponsored posts.