#MicroblogMondays 56: Would You Go?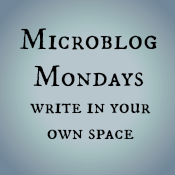 Not sure what #MicroblogMondays is? Read the inaugural post which explains the idea and how you can participate too.
*******
I'm working my way through a backlog of Note to Self episodes, and there was a particularly interesting one on space travel and specifically space tourism such as Virgin Galactic*.  While we may not get a person to Mars in my lifetime (or maybe we will?), I agree with the host, Manoush Zomorodi, that it seems likely that we'll have to make a decision on whether we're up for a suborbital flight, similar to the way that we have to make a decision on how we feel about airplane travel.
I don't think I'm up for it.  There are plenty of places I'd like to go and things I'd like to see, but I'm equally okay never getting to those places or seeing those things.  Life is short, you can't fit everything in, and I understand that some of those dreams may need to float away.  And space is one of those things: I'm totally okay never going up into space.
How about you?  If you had the financial means, would you take the risk of a suborbital flight if it meant you got to see space up-close?
*Heads up: Infertility pops up a few times in the episode.
*******
Are you also doing #MicroblogMondays? Add your link below. The list will be open until Tuesday morning. Link to the post itself, not your blog URL. (Don't know what that means? Please read the three rules on this post to understand the difference between a permalink to a post and a blog's main URL.) Only personal blogs can be added to the list. I will remove any posts that are connected to businesses or are sponsored posts.