#MicroblogMondays 55: Holy Days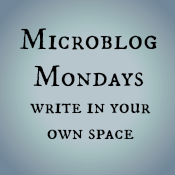 Not sure what #MicroblogMondays is? Read the inaugural post which explains the idea and how you can participate too.
*******
Today is Rosh Hashanah, the Jewish new year, so I likely won't be online. I wrote this ahead of time so everyone else could meet up because I love this weekly gathering so much. But I also think that it's important that I go offline and mark the day.
I don't know why going offline feels like the right thing to do. I mean, you're supposed to gather with others as you reflect on your past year and mentally plan your new year. I gather with people offline, but I also gather with people over the phone and online. I'm not sure why gathering in one way feels right and another way feels wrong.
Do you feel like there are times when you are supposed to be offline; where going online somehow feels wrong?
*******
Are you also doing #MicroblogMondays? Add your link below. The list will be open until Tuesday morning. Link to the post itself, not your blog URL. (Don't know what that means? Please read the three rules on this post to understand the difference between a permalink to a post and a blog's main URL.) Only personal blogs can be added to the list. I will remove any posts that are connected to businesses or are sponsored posts.