The Time I Broke My Glasses 3 Hours From Home
A few summers ago, the twins and I had this goat rodeo-like trip to the beach where everything went wrong.  It was so bad that the three of us sat in an ice cream store parking lot sobbing at one point, and before we could drive, we had to text Josh and ask if we could have a do-over for the trip.
Last week, the three of us were going to the beach and thing after thing kept happening on the drive out.  The ChickieNob commented that this trip felt very much like the one a few summers ago.
"Don't be so dramatic," I said.  "This is nothing like that trip."
Little did I know.
My first mistake came when I decided not to charge my phone.  Why charge my phone?  I barely use my phone.  The only reason I need it is to text pictures of us to Josh.  It has enough of a charge.  Let's just drop that puppy in the Wolvog's backpack and go.
(Why was I using the Wolvog's backpack?  Because I forgot my own.  I also managed to pack one of my shoes and one of the ChickieNob's shoes so I didn't have sneakers with me.  Let's just say that it's a different kind of smart.)
So we go rent bikes for a ride around the nature reserve.  I'm standing there in my helmet, waiting for the guy to help me get a bike, when I decide to switch my glasses.  I start to pull my glasses from my face, but it feels all wrong.  It feels like glue being stretched across my face, and I can hear the people around me gasping.  The lens in my glasses falls to the ground, and I hear the boy at the bike shop say, "Whoa… that sucks."
"I can't see," I told everyone frantically.  I couldn't even see to pick up the lens.  Someone found it on the ground, and I threw on my prescription sunglasses.  Somehow the arm of the glasses had broken clean off, and the wire holding on the lens had snapped.  My glasses were in three pieces.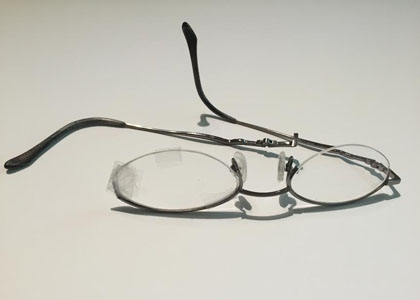 Please ignore the tape on my glasses.  I tried Scotch taping them back together in a fit of hysteria.
"What do I do?"  I was 3 hours from home with two kids.  My cell phone barely had a charge.  The skies were growing darker pre-storm.  All I had were my sunglasses, which wouldn't be helpful in a few hours.  I had no way of getting the kids home or getting them food or continuing the trip.  I texted Josh the situation and jumped on the bike.  "Let's ride."  I needed to think.
We did a fast loop — 5 miles — barely taking in the scenery.  And then we dropped off the bikes so I could collect my messages.  Josh found a discount superstore about a half hour away who could fix the glasses.  It meant giving up two hours of our vacation to fix my mistake.  I was so upset, I couldn't stop crying as we gathered our things so we could head to the store.
Oh… and I forgot to pack lunch.  The Wolvog can't eat most things right now, so… we were foodless.  But no worries because we'll be back a little after 1.
Right?
We get to the discount superstore and they can help us, but it will take 7 to 10 days.  Did they understand that I cannot see?  We were in the vision center in a discount superstore.  Couldn't we use some super glue and such to Macgyver my glasses back together?  I just needed them to get me home.  They refused to help me — gluing glasses is not part of the vision center.  But they suggested that we head to the nearest city about another half hour away.  There was a jeweler there who could solder the glasses back together, and there was also an eyeglass store that could make me a new pair.
(No offense, but wasn't I in an eyeglass store?)
I cried some more on the way to the next town.  I was terrified because we were getting closer to the point where it would be too dark outside to use my sunglasses, and there was no promise that the eyeglass store could make me a new pair of glasses instantly.  And my cell phone was running out of battery.  What if I was now an hour from the hotel and 2 hours from home and totally screwed?
We found the eyeglass store in the mall, bypassing the jeweler, and begged them to help me.  The guy took one look at my glasses and said, "those are done."  (Yeah, I had figured that out by now.)  But could he make me a new pair?  Like right now?  Because I was really far from home with two kids and unable to see.
Yes, he could make me a pair of glasses.  We just had one small problem: my prescription was at home.  It was also at my eyeglass store at home, which refused to forward it to the store I was in despite the fact that I was hours from home and therefore couldn't patron their store.  That seemed unnecessarily dick-y, no?  But that was their policy: they wouldn't forward my prescription, even in an emergency, to a competitor despite my promise to buy a new pair of glasses at their shop when I got home.
So I called my eye doctor to have her fax the prescription to the store.  Only their fax machine wasn't working.  So Josh drove home and took a photo of my prescription, which the eyeglass store accepted.  The man had passed me off with a woman who REFUSED TO HELP ME PICK A PAIR OF GLASSES.  She insisted that she was not allowed to help me choose.  What is her job except to help people choose glasses?  She kept telling me to choose what I liked, except I had no clue what I liked.
So I grabbed the cheapest frames and sat down to make the rest of my choices, crying the entire time.  By the way, the twins were just staring off into space this entire time.  Sometimes the ChickieNob rubbed my back, but mostly they just stood there silently, watching their mother unravel.
I had a long, annoying discussion with the woman over which lens to get.  I kept explaining to her that I needed the same lens that had been in the old glasses, and she could give me that, but did I want something different?  No.  I wanted those lens.  I needed those lens.  They helped me see at night.  Could she just give me the lens I wanted?  Please?  I can't seeeeeeeeeee.
They started making my glasses, and the kids and I went to sit in what may be the most depressing food court in the world.  They were selling milkshakes with Slim Jims in them.  Yes, you read that correctly.  They were selling "meatshakes."  I had to sit with my back to the sign.  The kids took one for the team and faced it.
An hour later, I went back to the store to pick up the ugliest glasses in the world.  The kids kept trying to make me feel better by telling me that they weren't hideous, but I could look in the mirror and see them.  They were enormous and didn't fit my face.  They kept slipping down my nose.  And, frankly, I looked like Christian Bale in American Hustle.
But they worked.  I could drive us back to the hotel.
So now I am the owner of the world's ugliest glasses.  I'm not wearing them because I had a second pair of glasses at home.  And that is the point of this post.  If you cannot see, as I cannot see, you should not travel without a backup pair of glasses.  Buy a cheap pair right now during the back-to-school sales.  They don't need to be gorgeous, they just need to be functional.
Make sure you always have a copy of your prescription.  Take a photo of it and keep it on your phone, or scan a copy of it to keep on your phone, or bring a hard copy just in case.  (In my case, I may do all three.)  Make sure you keep your prescription up-to-date.  Most places will not accept a prescription that is more than two years old.
Make sure you know the location of the nearest eyeglass store to your vacation spot.  Keep a travel tool kit for fixing small issues like a lost screw, but also know where you can go to fix your glasses OR get an entirely new pair of glasses.  Not that you'll need to do this because you'll be traveling with a second pair of glasses, right?
Please learn from my mistakes.
All is well that ends well with ugly glasses because we got one hour on the beach; just enough time for a gaggle of 60-year-old men to Periscope us without our permission.
Though I'm joking about the incident now, I think the most disconcerting part was how many unhelpful and uncaring people I encountered in a single day.  People who just stood there and watched me cry, or who refused to help even though they were in a position where they could help.  That's the part that sucked the most.