#MicroblogMondays 53: Stage and Screen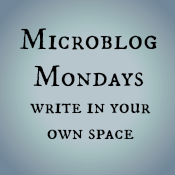 Not sure what #MicroblogMondays is? Read the inaugural post which explains the idea and how you can participate too.
*******
Josh and I got tickets to a Fathom Event. Sometimes plays or operas or ballets livecast a single performance, and you can go to the local movie theater to see it. The tickets are slightly more expensive than the average movie ticket, and because it's livecast, you're held to a single showing.
When I tell people that we're going to see a play in the theater, the response is mixed. Some think it's a great way to make theater accessible and others think that it's not worth seeing if you can't be in-person.
Me? I'm excited to see the play. Even if we lived in London, we couldn't have afforded the tickets. Plus, I'll have a great view as if I'm sitting in the front row (whereas in reality, I would have been in the back of the theater), able to see the actors' expressions. Seeing a theater performance is wonderful, but this is, too.
What about you? Would you go see a live theater performance on a screen in a movie theater?
*******
Are you also doing #MicroblogMondays? Add your link below. The list will be open until Tuesday morning. Link to the post itself, not your blog URL. (Don't know what that means? Please read the three rules on this post to understand the difference between a permalink to a post and a blog's main URL.) Only personal blogs can be added to the list. I will remove any posts that are connected to businesses or are sponsored posts.