#MicroblogMondays 52: One Year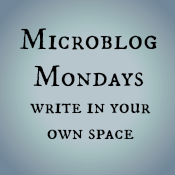 Not sure what #MicroblogMondays is? Read the inaugural post which explains the idea and how you can participate too.
*******
Provided I didn't number #MicroblogMondays wrong (and that is a definitely possibility considering the Roundup is off), this is the final post of the "year." Next week, the project officially reaches its one year birthday.
I'm a fan of sticking with things because then you get moments like today where you can look back on how things have turned out. We took back our blogs; at least, a bunch of people have. There are a couple dozen people who add themselves to the link-up list. It's not always the exact same people, but there is a core group. So it's sort of nice; we have the people who have started posting at least once a week again, and other people who post at least a bit more often.
So I thought it would be fun if people looked back at their posts if they participated at all this year and leave a link to their favourite post in the comment section below. And if you haven't participated, let this post kick you in the ass to take back your blog.
Really, they shrivel up without your presence. You don't need to post daily, but take it back one a week. Something brief. Something you would have posted on Twitter or Facebook or Instagram or anywhere else on the web.
*******
Are you also doing #MicroblogMondays? Add your link below. The list will be open until Tuesday morning. Link to the post itself, not your blog URL. (Don't know what that means? Please read the three rules on this post to understand the difference between a permalink to a post and a blog's main URL.) Only personal blogs can be added to the list. I will remove any posts that are connected to businesses or are sponsored posts.