#MicroblogMondays 50: The Secret Book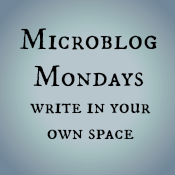 Not sure what #MicroblogMondays is? Read the inaugural post which explains the idea and how you can participate too.
*******
The New York Times ran a story about a guy who gets paid to write books that will never be published. He is hired by families looking to have a memoir written to preserve their family history. So no accolades, no fame, no royalties — just working on a long piece of work that will only be read by a few individuals… if any. It's totally possible that the author will do all that work, and the final book will be put in a box in someone's attic, never to be read.
Oh, and the books are all confidential, so the author also can't leak any of the juicy details of their client's life.
It was a fun question to consider: Would you dedicate years working intensely on a book that would — without a doubt — never be published? Or do you need to have, at least, the hope of publication to have the energy to work on the project day in and day out?
*******
Are you also doing #MicroblogMondays? Add your link below. The list will be open until Tuesday morning. Link to the post itself, not your blog URL. (Don't know what that means? Please read the three rules on this post to understand the difference between a permalink to a post and a blog's main URL.) Only personal blogs can be added to the list. I will remove any posts that are connected to businesses or are sponsored posts.