559th Friday Blog Roundup
So the veterinarian extended the antibiotics last week, but we needed to take a trip.  I mentioned that this was going to be a problem and she stared at me blankly.  "Cancel the trip," she said.
"Well, I can't cancel the trip," I began.
"What were you going to do with him while you were away?" she questioned.
I cocked my head to the side like I was sure there was a right answer to this question and I was not about to give it.  "Um… I was going to leave him for the night.  With food.  And water.  I've always heard that it was okay to leave a guinea pig alone for a night."
The vet just stared at me without speaking.
She finally looked away.  "You're going to have to get someone to give him the medicine, or you're going to have to take him with you."
We took him with us.  Truman is not the biggest fan of long road trips.  He attacked his nemesis, water bottle, taking a running leap at him and batting at it with his little paws.  He would tug it with his mouth and slam it into the wall of his cage.  He took out all of his fear out on water bottle.  We've taken to calling it his Moriarty.
He was pretty confused the whole trip.  He especially hated hearing a toilet flush for some reason.  It would cause him to go back to beating up Moriarty.
But you have never seen a happier animal than Truman when we set him back down in the living room at the end of the trip.  He was so happy that he ran around in a circle, wheeking.  It took him about 5 minutes to calm down and eat the lettuce we gave him.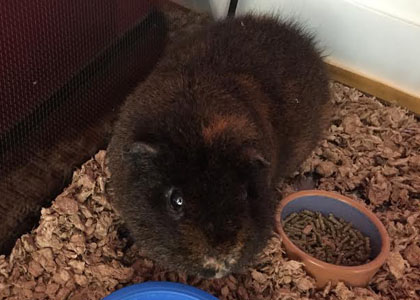 I love my happy boy, even when he gets totally curious and pushes his nose into the camera.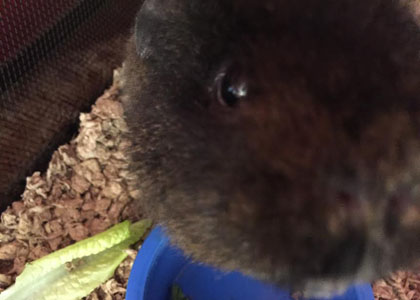 *******
The best part about the road trip?  I got to see Justine.  We drank coffee and walked around her town which has a haunted hotel (which makes it cooler than a regular town) and found one of the keys of Fillory in an antique store.
Her daughter is an awesome photographer.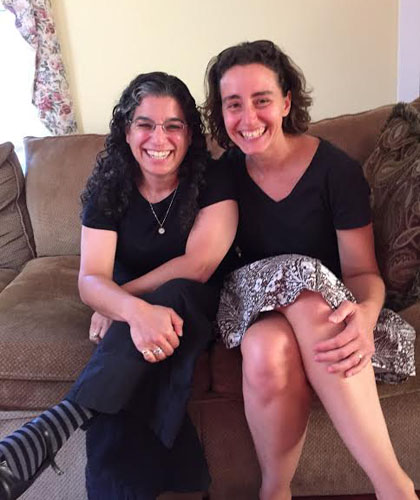 Even when we start to fall out of the frame.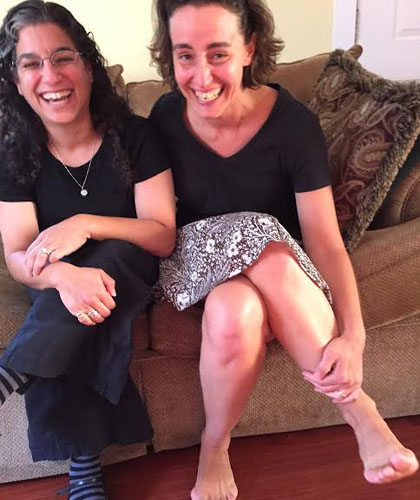 *******
Stop procrastinating.  Go make your backups.  Don't have regrets.
Seriously.  Stop what you're doing for a moment.  It will take you fifteen minutes, tops.  But you will have peace of mind for days and days.  It's the gift to yourself that keeps on giving.
As always, add any new thoughts to the Friday Backup post and peruse new comments in order to find out about methods, plug-ins, and devices that help you quickly back up your data and accounts.
*******
And now the blogs…
But first, second helpings of the posts that appeared in the open comment thread last week.  In order to read the description before clicking over, please return to the open thread:
Okay, now my choices this week.
Gypsy Mama's Family has a post about going back to work.  It has a great opening thought, "Not much work-related has changed in my absence, but being back has made me realize just how much I've changed."  I just loved this post because you can hear the peace of heart in all of her words.
The Empress and the Fool has a heartstopping post about scattering her son's ashes.  This line made me hold my breath: "It's easy to be overcome by a sense of infinity in Montauk, its wild and wind-blown vastness: one understands how it earned its moniker, "The End." He lives here now, body and spirit mingling in the silt and current, unshackled and omnipresent."  Please go read the whole, gorgeous post and help her hold the memory of her son.
Lavender Luz has a post about the new book, G-d and Jetfire, about open adoption.  It's an interesting piece putting open adoption on trial, though she points out that she needs to stop the trial analogy because it doesn't work even though people often want to see things as black-and-white.  It's a very interesting, thoughtful take on an emotional issue.
Grumpy Rumblings has a post about perfection coming in the form of Internet trends.  For instance, KonMari method circles through the Internet, and suddenly the measuring stick is how well you tidy up.  She writes, "It's great to try these things out, but if they don't bring the solutions you were looking for, that doesn't mean there's anything wrong with you."  It's a nice balance to the cheerleading out there.
Lastly, Something Remarkable has a series of posts about a book that seems to be making its way through the blogosphere: I Know How She Does It.  She writes the first post in 5-minute chunks, showing exactly how she puts the advice into action.  She writes, "We've now entered the third 5-chunk of time in which I've written this post, which is one of Vanderkam's strategies… making use of the 'time confetti' and smaller moments."  I've been interested in the book, but sort of more interested in the discussion I'm seeing on it.
The roundup to the Roundup: Truman came on our road trip.  I got to see Justine.  Your weekly backup nudge.  And lots of great posts to read.  So what did you find this week?  Please use a permalink to the blog post (written between August 14th and 21st) and not the blog's main url. Not understanding why I'm asking you what you found this week?  Read the original open thread post here.