The Haircut
After I spent an excessive amount of time trying to line up the pencil and ruler, and then wrote about said experience being unable to line up pencil and ruler, I cut my hair.
The last time I cut my hair was back in 2013.  Early 2013, so two and a half years ago.  As you can probably guess from that post about my last haircut, I wasn't too keen to return and go through another round of "your husband is lying about liking your awful awful awful hair."  I avoided doing anything with the rat's nest that was slowly creeping down my back.
But I hit my breaking point and phoned for an appointment.  I drove over, bracing myself for commentary about my hair colour or hair care products (she hates everything I use from my shampoo to my comb).  But it never came.
Instead, when I sat down in her hair, we talked about what I wanted done.  And then she held my hair in a ponytail.
"Melissa, I am going to cut off your hair right now."
I startled and started SINKING DOWN INTO THE CHAIR AS IF I COULD ESCAPE VIA THE VINYL SEAT.  As if it were a portal and my body was going to sink down into it like Super Mario Brothers and end up on another level.
She explained that if she didn't take this drastic step, I was going to change my mind after she shampooed my hair, and I was going to go with a tiny trim that I would ultimately regret.  She told me to take a deep breath, and then she grimly chopped off four inches of hair.
"It's done.  And now we need to really cut it to fix it."
I have to admit that it was sort of a brilliant move.  I mean, it could have backfired terribly for her, but she was right.  I would have changed my mind.  And now I couldn't.  The only way forward was forward.  So she shampooed my hair, trimmed off another inch or two to even things out, and sent me on my way.  No lecture about hair care products or greyness.
Just bouncey locks that I promptly washed and restyled the moment I got home.
I think I like it.
Neither picture actually shows you the haircut, but I have very short arms (hence why I was laughing in the first picture as I tried to balance the camera in front of me) and therefore cannot take a photo of myself (despite trying very hard to figure out where one looks while taking a selfie to prove they cut their hair).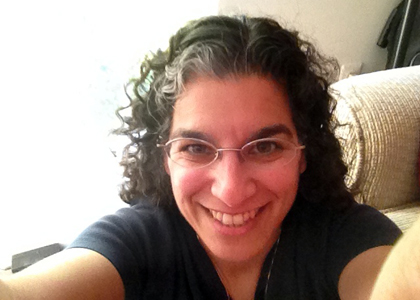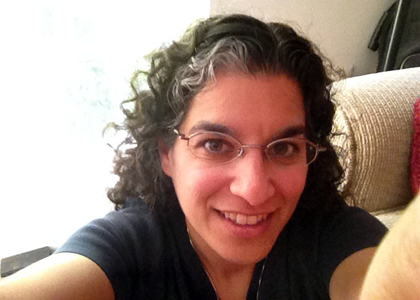 Sidenote: Tomorrow is #MicroblogMonday.  Get writing.