#MicroblogMondays 46: Coffee Break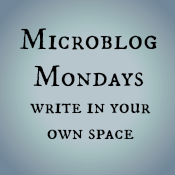 Not sure what #MicroblogMondays is? Read the inaugural post which explains the idea and how you can participate too.
*******
I recently read about fika, the Swedish coffee break tradition. Like British tea, it sounds like something missing from my life: that purposeful break in the middle of the day with a good beverage and something small to eat.
I drink coffee and tea, and I eat meals, but I rarely take a break. I am much more likely to consume the beverage while working. Part of it is that my work day is both truncated and spread out — I work from about 9 am – 3 pm and then again after 8 pm. When your work day is broken up like that, you tend to want to use every minute to its fullest. Part of it is that it isn't part of my culture; the break in the middle of the day. I don't know anyone who takes a break in the middle of the day on a regular basis.
But maybe I need to do this. I need to declare from 1 pm to 1:20 pm, regardless of whatever else is happening, as my fika. I especially like the idea of getting a cookie to boot.
Do you have any breaks built into your day? And do you keep them sacred? Or do they only happen when you can find the time?
*******
Are you also doing #MicroblogMondays? Add your link below. The list will be open until Tuesday morning. Link to the post itself, not your blog URL. (Don't know what that means? Please read the three rules on this post to understand the difference between a permalink to a post and a blog's main URL.) Only personal blogs can be added to the list. I will remove any posts that are connected to businesses or are sponsored posts.