#MicroblogMondays 45: Isolation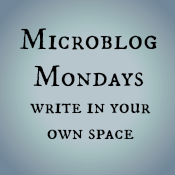 Not sure what #MicroblogMondays is? Read the inaugural post which explains the idea and how you can participate too.
*******
I recently read about the most isolated place on earth: Tristan da Cunha. It takes a week to reach the island from the closest piece of mainland. It's 1000 miles from the nearest town.
I love islands: the moodier, the better. I'm not really into happy, sunny islands. I'm more drawn to the Outer Hebrides than I am to the Greater Antilles.
Part of me would love the chance to live somewhere like Tristan da Cunha for a year, even if I'd have to contend with slow Internet. (Perhaps I should wait to go until they fix that problem.) And part of me thinks I would go mad living somewhere that isolated when I'm accustomed to being near big cities, with all their conveniences at my fingertips.
Do you think you could live somewhere as isolated as Tristan da Cunha for a year if given the chance?
*******
Are you also doing #MicroblogMondays? Add your link below. The list will be open until Tuesday morning. Link to the post itself, not your blog URL. (Don't know what that means? Please read the three rules on this post to understand the difference between a permalink to a post and a blog's main URL.) Only personal blogs can be added to the list. I will remove any posts that are connected to businesses or are sponsored posts.