#MicroblogMondays 44: Money or Accolades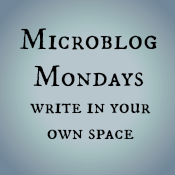 Not sure what #MicroblogMondays is? Read the inaugural post which explains the idea and how you can participate too.
*******
Nathan Bransford asked a question a few months ago that comes up again and again and again on the Internet, but it's a good one:
When it comes to your creative work (in this case, a book), "would you take money or an award?"
It's popularity or prestige. It's fame or skill. It's money or accolades. You only get one.
Pick your poison. I mean… uh… reward.
Would you rather have your creative work sell like hotcakes while you're alive but burn out and be forgotten in the future, or have your work not sell well but stand the test of time?
*******
Are you also doing #MicroblogMondays? Add your link below. The list will be open until Tuesday morning. Link to the post itself, not your blog URL. (Don't know what that means? Please read the three rules on this post to understand the difference between a permalink to a post and a blog's main URL.) Only personal blogs can be added to the list. I will remove any posts that are connected to businesses or are sponsored posts.